Canary islands honeymoon: the best destinations
Visit the Canary Islands for your honeymoon
If you are looking for a romantic destination, with exceptional weather throughout the year, heartbreaking beaches and quality tourism, the seven islands that make up the Canary Islands are your ideal destination for your honeymoon.
You can choose between the long beaches of Fuerteventura, the nature excursions in La Palma, the volcanic landscapes of Lanzarote, the laurel forests in La Gomera, the highest peak of the islands (and all Spain) in Tenerife, the dunes of Maspalomas in Gran Canaria and / or the paradise of ecologists in El Hierro.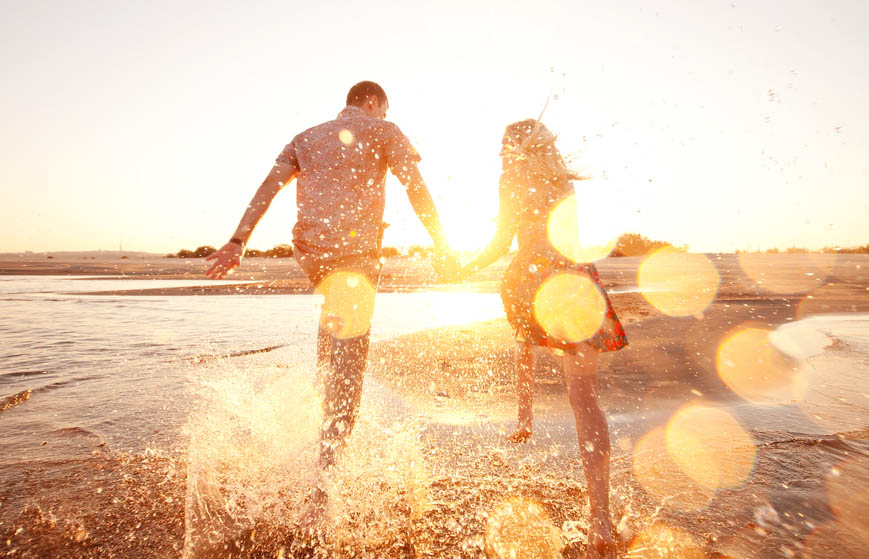 Discover our honeymoon travel ideas to enjoy:
La Pama
As known as the "Isla Bonita" (Beautiful Island). In it you can enjoy romantic walks under the stars in one of the cleanest skies on the planet, declared Starlight Reserve. If this is not enough to visit it, in La Palma you can find beautiful natural routes that will lead you to discover waterfalls, volcanoes, ravines and natural landscapes of this Biosphere Reserve.
Essentials in La Palma
The salt mines of Fuencaliente: A beautiful contrast between volcanic earth, white salt and blue sea.
Puerto Naos: An exotic black sand beach.
Route of the volcanoes: From its highest point you can see the entire island and enjoy its contrasts.
Bosque de Los Tilos (Tilos Forest): Tour one of the most important laurel forests of the Canary Islands.
Santa Cruz de la Palma: The capital of the island takes you to the past by preserving its colonial style.
Caldera de Taburiente: Canarian pine forests, ravines, waterfalls and streams, and volcanic rock.
La Gomera
If there is something that this island stands out for, it's because of its exuberant nature and its 650 kilometers of trails to get lost and found again.
What to see in La Gomera
Mirador de los Roques (Roques Viewpoint): Landscape full of palm trees that flows into black sand beach and blue waters.
Valle Gran Rey: Landscape full of palm trees that flows into black sand beach and blue waters.
Los Órganos: A volcanic rock cliff with the shape of organ pipes
Agulo: A small town baptized as "el bombón de La Gomera" (the chocolate of La Gomera).
El Hierro
Enjoy your honeymoon on a 100% sustainable island thanks to renewable energies. It has been declared a Biosphere Reserve by UNESCO and the first geopark in the Canary Islands.
Must see in El Hierro
Frontera Rural Park:A beautiful fairytale forest.
Charco Azul:natural salt water pool.
Garoé Tree: interpretation center to learn about the history of this sacred tree
Mirador de la Peña (Peña Viewpoint): Created by the Canarian artist César Manrique, you can contemplate the sea views from its 700 meters altitude.
Fuerteventura
More than 150 kilometers of beaches to enjoy the sun and water sports such as the windsurfing thanks to the sea breeze. Fuerteventura is not far behind in landscapes and has also been declared a Biosphere Reserve by UNESCO in 2009.
Essentials
Cofete Beach: The most famous virgin beach on the island.
Playa de la Concha de lobos A Natural Park where you can enjoy peace and quietness.
Natural Park "Dunes of Corralejo": Nine kilometers of beaches and small coves
Costa Calma:kilometers of white sand and turquoise waters to relax.
Villa de Betancuria: Discover the first city of the island and its impressive historical complex.
Lanzarote
A perfect place to enjoy the sun, volcanic landscapes declared Biosphere Reserve in 1993 and its wine with designation of origin, Malvasía.
Enjoy Lanzarote
Cueva de los verdes:An excursion to the center of the earth where you can enjoy a colorful show.
Papagayo Beach: Virgin and protected area where you can enjoy white sands and turquoise waters.
La Geria: Protected landscape in the wine region of the island.
La Francesa Beach: on La Graciosa Island, to the north of Lanzarote. A place to completely disconnect.
Charco de los Clicos (Puddle of the Clicos): Crater at sea level that formed the green lagoon when it was flooded.
Gran Canaria
Sixty kilometers of beaches where you can enjoy the sun and protected landscapes declared Biosphere Reserve.
What to see in Gran Canaria
Parque Rural del Nublo: More than 25,000 hectares of natural space that has been declared a Biosphere Reserve.
Puerto de Mogán: A quiet seaport.
Pintada Cave: Museum and archaeological park of an old Canarian village.
Agaete: Beautiful town to disconnect and enjoy the tranquility.
Tenerife
The climate of this island allows you to enjoy almost any activity at all times of the year. A small paradise for golf lovers and adventurers who want to experience a whale watching.
Highlights in Tenerife
The historic center of La Laguna: The old city of La Laguna has been declared a World Heritage Site by UNESCO.
Teno rural park: This park is a sanctuary for many species.
Siam Park: The largest water park in Europe.
Villa de la Orotava: A must see for being a monumental city
Anagua Rural Park: One of the few places in the world where laurel can be found.
Canary islands Honeymoon resorts
The accommodation found on the islands ranges from large holiday resorts to small intimate hotels. The possibilities are almost endless and for all likes. You just have to worry about relaxing, while we take care of finding the perfect hotel for you for these days.
Remember that we are specialists in organizing tailor made trips matching all your requests. So do not hesitate to contact us to help you organize one of the most special holidays of your life
Subscribe
Subscribe to receive our newsletter
Recent News
Hidden in Spain awarded as "Best Tailor-Made To...

We can help you plan an unforgettable holiday i...
Tailor made experience to Spain
We organize tailor-made experiences through Spain for you.
Custom Tours
Health and wellness holidays
We prepare your stay to enjoy a relaxing holiday in Spain
Health and wellness