The north itself (San Sebastián, Bilbao, Santander, Gijón, Oviedo and León)
This tour will take you through the northern coast of Spain and also to some inland cities you'll love to discover because of their history, cultural heritage, local people, sceneries and their traditions. It is the most unknown part of the country but it really worths a visit. You won't find a crowd of tourists around you like in the most touristy spots such as Sevilla, Madrid or Barcelona. From the Basque Country on the east to Galicia on the west you'll discover amazing places that you would not imagine.
This can be a self driven tour or we can arrange public transportation, though the best option would be a mix of both so you don't miss anything around you.
This is just a sample tour and can be customized and match all your requests. Contact us to shorten or lengthen it. Tell us what you want and what you like and we will customize your holidays.
Please scroll down to get additional information on a sample itinerary, inclusions and prices.
Tagged under:
a coruña
,
asturias
,
aviles
,
basque country
,
bilbao
,
cantabria
,
galicia
,
gijon
,
leon
,
north of spain
,
northern spain
,
oviedo
,
san sebastian
,
santander
,
santiago
,
santiago de compostela
Description
This tour begins in Bilbao and takes you to San Sebastián, Santander, Cosgaya (Picos de Europa), Gijón, León and Santiago de Compostela. Here you can find a brief journey plan but remember you will receive a complete guide with things to do, see and places to eat when booking with us.

Contact us for a free budget
Map
Day 1
Visit the town yourself the same day and the following morning. Visit the Guggenheim museum, the famous "Ría", the medieval old town, the modern old town or walk by the sea to Portugalete, where you can visit the first hanging transport bridge still working.
Don´t miss the Zubi – Zuri bridge, designed by the famous architect Santiago Calatrava.
Day 2
Perhaps the most expensive town of all we are visiting but also maybe the most elegant of all of them. It is a must to walk in La Concha beach and enjoy the beautiful city sea line.
Visit the Miramar palace and walk to the "Peine de los vientos" (Wind comb), a sculpture by Eduardo Chilida. Get to the funicular and go up to "Monte Igueldo" where you will have the best views of the whole town.
Walk into the old town and try some of the best "pintxos" (small portion of food) in the Basque Country or, if you prefer, dine at one of the much 3 starred Michelín restaurants in town.
Day 3
Capital of Cantabria, is a cozy and quiet coastal town with a large south facing bay whose beauty has made it one of the world's most beautiful bays. You will find 13 beaches in this town but you shouldn´t miss "El Sardinero", where you will find the Magdalena Palace, former residence of the Kings of Spain.
Get to know the historic center of "Puertochico" and look at the "noble" buildings where you can buy something in some of the best shops in town.
Visit the Cathedral, the "Plaza Porticada", and the Great Casino.
Day 4
You will get to the heart of the magnificent "Picos de Europa". This mountains are natural border for 3 provinces of the north. You will be hosted in a charming hotel where relax is a must and food is awesome.
You cannot miss the cable car 13km. far from there that will take you up the mountains where the views value the trip itself. The nearest big village is Potes.
There you can make some shopping and tour around.
Day 5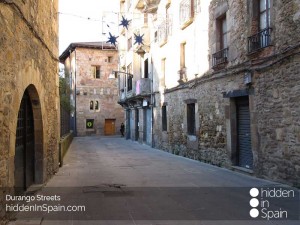 Gijón.
In the way from Cosgaya you can stop at Llanes or Ribadesella and take a walk. These sailor´s villages are nice to visit and fine to eat.
Fish and sea food are fresh everyday but you can also ask for meat as there are farms pretty close and quality is high. In Gijón you can take a walk in "El Muro", a path beside the beach that go across the town.
At the end of this path visiting the old town (Cimadevilla) is a must. There you will find hundreds of "sidrerías" (local restaurants) where you can eat or drink anything. Don´t forget to ask for a "sidra" (cider) which is poured in a traditional way (see this in the video). Up the hill of "Cimadevilla" you have to see the sculpture designed by Chillida called "Elogio del horizonte" (Eulogy of the horizon).
It is placed near the cliff and only if you go in the middle you will hear the waves crashing. The building called "La Laboral"(the university) is also highly recommended.
If you are travelling with kids you can visit the aquarium or the botanical gardens.
Day 6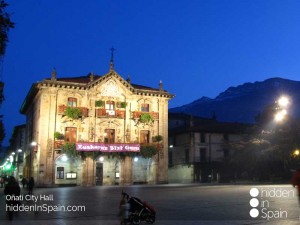 León.
It is a city full of history and a really comfortable place to visit walking.
You can´t miss "Hostal de San Marcos" (was a jail hundreds of years ago and renewed as a hotel, one of the only two 5 stars hotels with the distinctive of Great Luxury), "San Isidoro" church, Gaudi´s building (holds a bank nowadays), the old town (called "Barrio Húmedo" → "Wet neighborhood) and the great cathedral. In this town it is typical to ask for a beer, wine or anything and get a free "tapa" (small portion of food).
Day 7
Santiago de Compostela.
End of Camino de Santiago tour. Thousand of pilgrims finish the traditional "Camino" every year in this beautiful town.
The Cathedral, along with the squares surrounding it (Obradoiro, Quintana, Inmaculada and Praterías) and the main historic "rúas" or streets are a must for first-time visitors but there is much more to see.
More info
If you want further information about this experience and how to remove, add or modify anything to adapt it to your likes and preferences, please e-mail us at info@hiddeninspain.com or visit our contact section. We will be happy to tailor-made your holidays.
7 nights accommodation in 4* hotels and/or boutique hotels (including 1 nights in a family run boutique hotel in the heart of the Picos de Europa mountains where you'll open the window in the morning and will see the mountains in from of you). Based on 2 people sharing in double rooms. Single supplement please ask!
Manual car rental from arrival day to departure (7 days). An automatic car can be arranged at an extra cost. Note this tour can also be done combining public and private transportation (with driver). Should you be interested, please ask!
Complete and comprehensive guide book with maps, routes, information about the area, tips, restaurant recommendations and everything you need to make the most of this trip.
You'll have a 24/7 service with a local trip manager (always the same one) that will be able to help you with any issue (even translation or any problem resolution) within minutes.
We'll send you a good bye pack to thank you for traveling with us
Many different tours can be included at an extra cost, from walking guided tours to 4x4 wheel drive tours in Picos, lake cruises, pintxos tours or cooking classes, to mention some. We will suggest you the best based on your likes and requests). Note local restaurants or michelin starred restaurants can be arranged in advance.
Any other not specified above
Final price will depend on dates, final destination and services required