Best honeymoon destinations in Spain
Honeymoon places in spain
Have you thought about your best honeymoon destination? You can do what everyone else do and visit exotic places like Maldives, Hawaii or Bora Bora or you can make this more unique and special and visit other honeymoon destinations less popular and demanded like Spain. Check our recommended honeymoon destinations in Spain: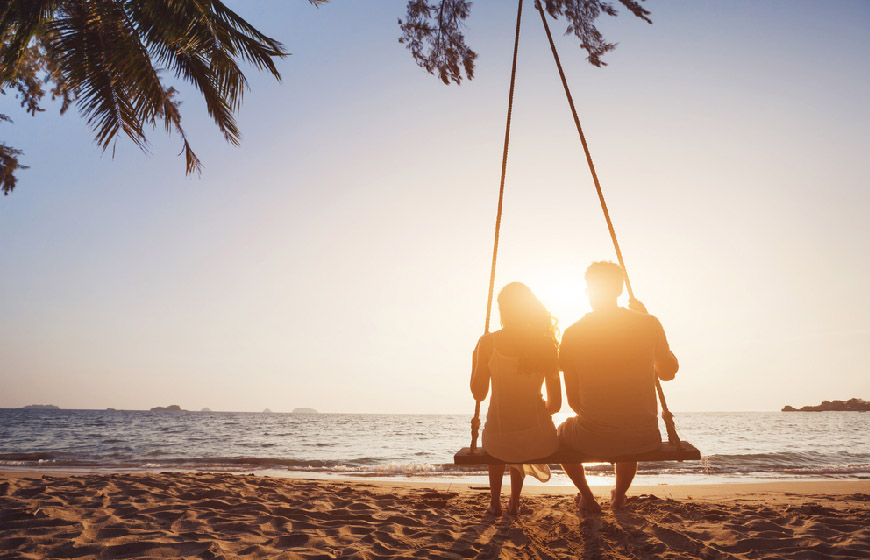 A romantic honeymoon in Spain
Spain can be a great destination to enjoy a romantic honeymoon since it has everything you need: good weather, excellent cuisine, a rich culture and a wide and varied range of hotels and activities. Whichever trip you are looking for, we are sure you'll find it in Spain.
Because of this we'll recommend you the following honeymoon destinations to get the most of your time with your couple. The list could be endless but these are the most magical destinations to make your honeymoon unforgettable.
Best places to honeymoon in Spain. Romantic places in Spain for honeymoon
Spain islands honeymoon: Canary Islands
It is one of the favorite destinations to holiday in Spain, but it can also be one of the best to enjoy a romantic getaway with a volcanic essence.
In its islands you can explore volcanic landscapes, visit beautiful villages and taste delicious cuisine. Relax, adventure and leisure, everything in its 7 islands we are sure you will fall in love with.
The most demanded destination is Lanzarote, but the rest of the islands are not far behind. In the coming months we will tell more on what to do on your honeymoon in the Canary Islands.
Spain islands honeymoon: Balearic Islands
You don't have to go to the Caribbean to enjoy crystal clear waters, fine white sand beaches and beautiful natural landscapes. Tour the different islands that make up the Balearic archipelago the honeymoon of your dreams.
If you are looking for a destination in which to have some privacy, when touring the Balearic Islands you will find hidden coves in the middle of nature in which to rest and spend the day with your partner without the bustle of people. Though it won't only be relax, if you are also looking for fun and "fiesta", Ibiza, for instance, is popular for this.
In the Balearic Islands you will have everything you want to make these days some of the best of your life.
Honeymoon in Andalusia
There is only one Andalusia and for those looking for a honeymoon that mixes relax, culture and fun, it is the perfect destination. Whichever is your dreamt honeymoon, you can find it in Andalusia.
Magical cities like Granada, full of life like Seville or of great beauty like Córdoba are just some examples of this area. We cannot forget the great number of kilometers of coastline is has, with some great beaches along it.
If you choose the northernmost part of our country, you will fall in love with it as soon as you step on it.
The Northern Coast
The northern coast of Spain is much less exploited and demanded than the southern one. It includes Galicia, Asturias, Cantabria and the Basque Country. Areas with incredible natural beauty where you can enjoy a perfect combination of sea and mountains.
If this is not enough, culture, tradition, exceptional cities and a rich gastronomy complete the travel package through these lands.
Costa Brava
The good thing about choosing our country for your honeymoon is that if you prefer a coastal destination you have multiple options. One of them is the "Costa Brava" which is located in the province of Girona, in Catalunya.
This area provides tourists with a first-class gastronomic and cultural offer that, together with the beauty of its landscapes, makes it a unique destination.
Choose Spain as your honeymoon destination
As you can see, Spain is a perfect destination to celebrate an unforgettable honeymoon. If you need help to organize it, do not hesitate to contact us. And remember, in future posts we will gradually discover more of these destinations to give you the best recommendations and turn your honeymoon into the most romantic trip of your life.
Subscribe
Subscribe to receive our newsletter
Recent News
Hidden in Spain awarded as "Best Tailor-Made To...

We can help you plan an unforgettable holiday i...
Tailor made experience to Spain
We organize tailor-made experiences through Spain for you.
Custom Tours
Health and wellness holidays
We prepare your stay to enjoy a relaxing holiday in Spain
Health and wellness