Northern Spain tourism: What to do and what to see in Cantabria
In this post we tell you how enjoy the best 
Cantabria holidays in Spain
It is said that Cantabria is infinite, full of wonderful landscapes and unique experiences. There are many things to see and do in Cantabria so, if you are thinking of visiting it during your next holidays to northern Spain and do not know where to start from, we might help you! Hidden in Spain shows you some of the gems in this beautiful region you can not miss.
Northern Spain tourism: Don't miss these 10 unique places in Cantabria during your holidays to northern Spain.
1. Santander holidays
It is quite obvious that the capital of Cantabria is a must. Among the many attractions this city has to offer, its old town and its bay are both compulsory visits: there's a long promenade starting at the port that takes you along the most beautiful places of the city. In Santander you can see also the best beaches in Spain.
2. Comillas tourism in Spain
This manorial village close to Santander holds great examples of modernist architecture. Palaces, beautiful buildings, parks, small squares… you'll love it!
"El Capricho de Gaudí": the prestigious architect Antonio Gaudi, which I'm sure you know if you've been lucky enough to visit Barcelona, also left a beautiful Modernist building in Cantabria. It is located in Comillas and it is a unique place full of colors and unique shapes that will not leave you indifferent.
3. Things to do in Santillana del Mar
This medieval village of cobbled streets was declared as Artistic Historical Site. Beside, here you can find the Altamira Cave, of great interest because of the paintings inside, which date from the Paleolithic.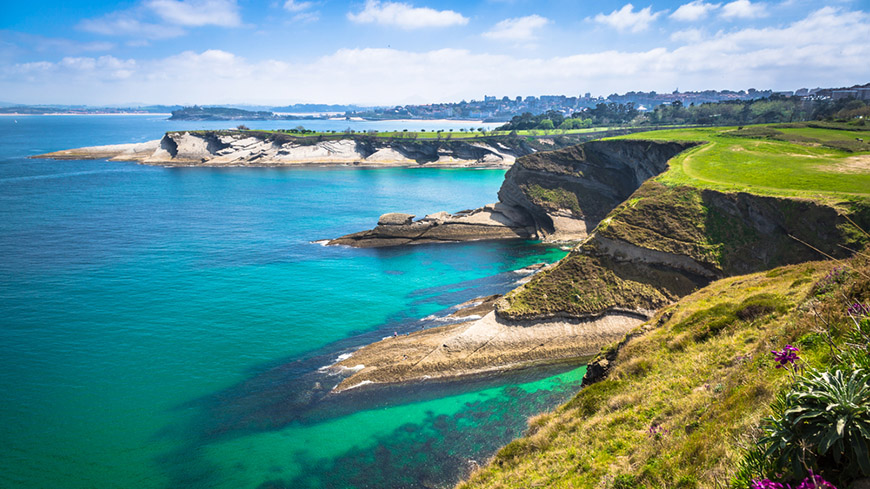 4. Park of the Nature of Cabárceno
This park is home to almost 150 species of animals from 5 continents in semi-wild life. It is an ideal plan to spend the day with your family enjoying a diverse fauna and flora.
5. Things to do in San Vicente de la Barquera in Cantabria
This fishing village sums up the essence of rural Cantabria. The Santa María de los Ángeles church and the Sanctuary de la BarqueraIt reflects the characteristic "montañés" gothic style.
6. Suances: what to do?
Possibly one of the main tourist destination for those who want to enjoy the Atlantic Ocean. It is a lively area with several beaches full of restaurants, bars and hotels.
7. Cuevas del Soplao
You cannot leave Cantabria if you haven't seen this cave.  It houses one of the largest concentrations of eccentric stalactites in the world. There are two kinds of visits: the regular one and another one for more adventurous people… (If you want to know more you'll have to come!!)
8. Magdalena Palace
This palace of an elegant Victorian style was the former summer residence of the kings of Spain. In an unbeatable location, in the Bay of Santander and surrounded by cliffs, this palace is a popular place for events and even film shoots.
9. Teleférico de Fuente Dé
Fuente Dé is a village located in a beautiful and vast meadow that can be enjoyed from the peak of the Picos de Europa Mountains taking its cable car. This cable car ascends 753 meters to immerse you in nature and providing superb views at its highest point, where there's a view point. We guarantee an experience that will make of your holidays to northern Spain one of the most exciting experiences.
Now you just need to contact us to organize everything and let yourself fall in love with these ten wonders you cannot miss during your holidays to northern Spain.
Tagged under:
cantabria
,
capricho gaudi
,
comillas
,
fuente de
,
gaudi
,
holidays to northern spain
,
Northern Spain tourism
,
package holidays to northern Spain
,
santander
,
soplao
,
soplao cave
,
suances
One Response to "Northern Spain tourism: What to do and what to see in Cantabria"
Subscribe
Subscribe to receive our newsletter
Recent News
Hidden in Spain awarded as "Best Tailor-Made To...

We can help you plan an unforgettable holiday i...